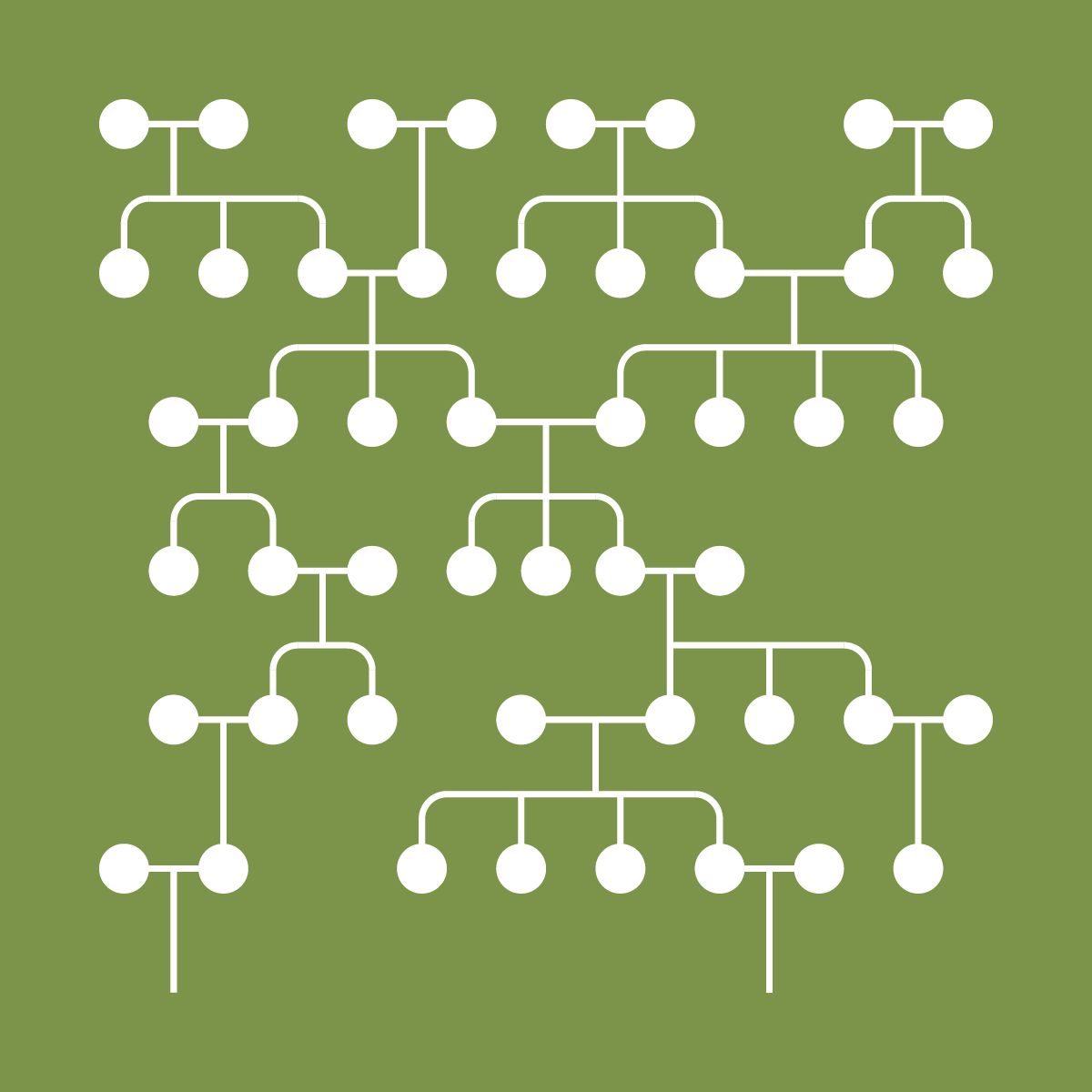 Target 12: Reducing the risk of extinction
By 2020 the extinction of known threatened species has been prevented and their conservation status, particularly of those most in decline, has been improved and sustained.
Many IPLCs view plants and animals relationally through kinship—having spirit, due care obligations, and moral standing equal to humans. Relational values often motivate people to protect and restore threatened species.
IPLCs measure species recovery using, for example, cultural indicators; community-based monitoring and information systems; indigenous and local knowledge; and community governance and management.
Partnerships with IPLCs have great potential but must ensure mutual respect, reciprocity, benefit-sharing, accountability and cultural safety.
Significance of Target 12 for IPLCs
In many places, threatened species are integral to IPLC livelihoods, values, identities and human rights.1 Traditional knowledge, expressed through stories, songs, prayers and languages, is linked to species' ongoing existence, survival and recovery.2 Humans exist in sacred kinship relationships with other-than-human beings that bear custodianship obligations.3 IPLCs create biocultural habitats and manage the environment in ways that can support recovery.4 Restoring threatened species is part of their wider healing relationships with the environment, based on mutuality, accountability, and reciprocity.5 Given that the root causes of endangerment change over time, it is also important to recognise that IPLCs have long experience of adapting to change and will best navigate the turbulence if their territorial and species management systems are respected.
IPLCs may have different beliefs about endangerment and extinction than scientists or society, and these should be respected.6 Target 12 should accommodate the full range of IPLC governance regimes, values, evidence and motivations.7 IPLCs exist in many different political, legal, cultural and historical contexts. Inappropriate governance regimes imposed on IPLCs, regimes that do not take their contexts, institutions and constraints into account, can result in non-cooperation and failure.8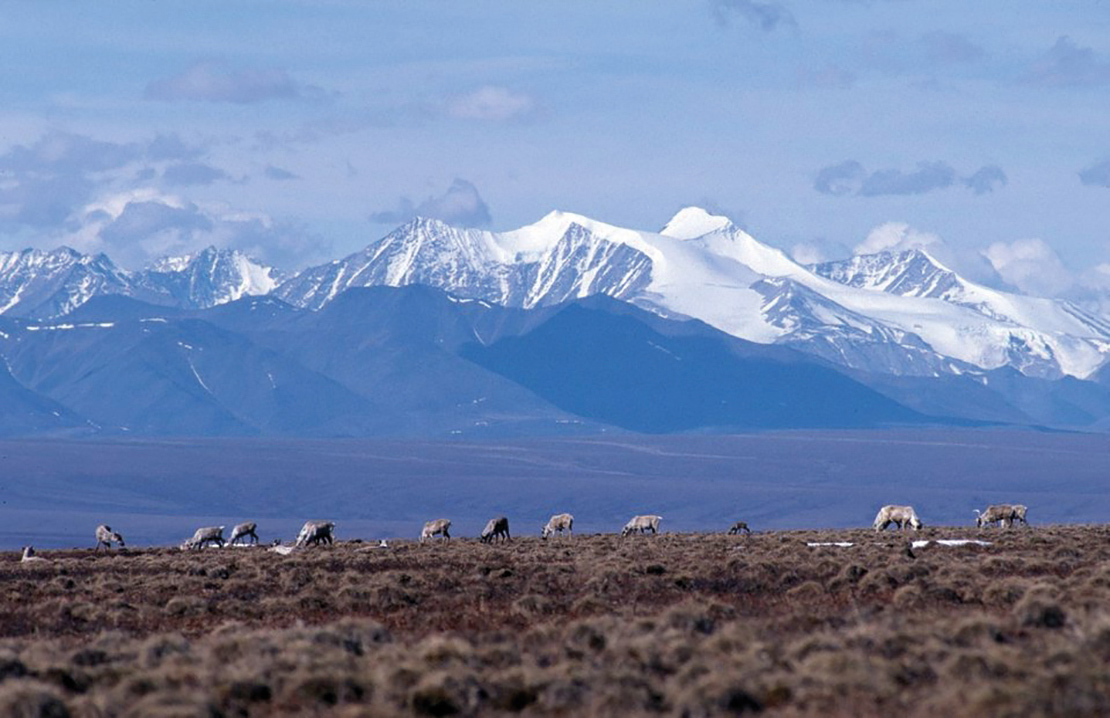 The Arctic landscape. Credit: US Fish & Wildlife Service.
Processes involving species used by IPLCs should be led, self-managed or co-managed by IPLCs, and take fully into account their governance, institutions, values, languages, concepts, sustainable uses, methodologies, traditional knowledge and evidence bases.9 IPLCs are in the best position to monitor and develop indicators for species that are relevant to them and that are compatible with their specific circumstances, and to manage knowledge and data that may or may not be shared. Funding and support for these kinds of activities need to be upscaled and made accessible to them.
Contributions and experiences of IPLCs towards Target 12
IPLCs are contributing to threatened species recovery in many ways. They are extremely knowledgeable about the behaviours, habits, habitats, associations, relationships, distribution, abundance and many other aspects of threatened species. They can use this knowledge to manage the species on their lands and to aid scientists and planners. They often manipulate their environments to create 'biocultural habitats' that support threatened species, through techniques such as traditional burning and soil fertility management. Through sustainable use and innovations, they can prevent local impacts and avoid endangerment.
Actions to support threatened species recovery often occur on a site- and species-specific level on IPLC lands and territories, but many threats come from outside their jurisdiction and/or span multiple jurisdictions (for example, climate change, population growth, urbanisation, habitat fragmentation, dispersal barriers and pollution10). A broad interdisciplinary approach, often at multiple scales, is required for long-term success.11 Species' range shifts, local eradication, feral animals, and disease also complicate recovery.12 Recovery may be fragile if the underlying causes of endangerment, including social and biophysical drivers, are not mitigated and plans are not flexible enough to adapt to change.13 It should also be recognised that although IPLCs may not have caused endangerment, they are often asked to carry conservation burdens.
Below is a small sample of approaches IPLCs have taken, which range from political measures to self-monitoring and management to partnerships.
In Australia, three-quarters of listed threatened vertebrate species overlap indigenous lands.14 Traditional owners are establishing indigenous protected areas (IPAs) and, at the same time, identifying biocultural hotspots and providing expert knowledge on threatened species15 For example, the Threatened Species Recovery Hub is working with Aboriginal rangers and communities to monitor and recover the threatened greater bilby (Macrotis lagotis), a small nocturnal mammal.16 More broadly, the hub supports the development of community protocols and indigenous-led processes.17 Similarly, the Country Needs People campaign supports Aboriginal and Torres Strait Islander Indigenous Protected Areas and species protection activities.18
In Guatemala, indigenous communities monitor community forests for forest health and for endangered birds, mammals and plants.19 They maintain a community-based monitoring and information system that tracks status, trends, cultural values and practices associated with threatened species, and provides information for them to manage their forests.
In Samoa, indigenous hunters have provided detailed information on the critically endangered tooth-billed pigeon (Didunculus strigirostris). Information on its detection, behavioural ecology, food sources and terrestrial habits is providing the basis for short-term conservation recommendations.20
In the United States, Joint Secretarial Order 3206,21 related to the Endangered Species Act and tribes, recognises that tribes often bear conservation burdens for harms they have not caused. It employs a mitigation hierarchy of actions to prevent endangerment; preferentially imposes burdens on those who have caused the harms; and, when harms are unavoidable, minimises tribal burdens in consultation with tribal authorities.
In Ghana, the Ashanti people's management of their forest reserve is dictated by strongly held cultural beliefs, spiritual connections to the forest, and taboos. Their forests were found to be largely undisturbed, with closed canopies and high amounts of commercial timber. Comparatively, forests managed by the forestry commission of Ghana had poor structure and productivity, indicating that the traditional system of management is a useful tool for conservation.22
The Buffalo Treaty is a modern-day inter-tribal alliance among US Tribes and First Nations in Canada with the long-term aim of allowing the free flow of the buffalo (bison), across the international border and restoring its central role in the food, spirituality and economies of many American Indian tribes and First Nations. It is guided by traditional elders to steer the younger generation back to a path of cultural and ecological balance by closing the gap left by the near extinction of the buffalo, thus renewing the ancient cultural and spiritual relationships with buffalo and grasslands in the Northern Great Plains.
Box 28: Chief Dana Tizya-Tramm, Vuntut Gwitchin First Nation
The Gwich'in have relied heavily on the strength and vitality of the Porcupine caribou herd for thousands of years for their food security. Credit: Minden Pictures.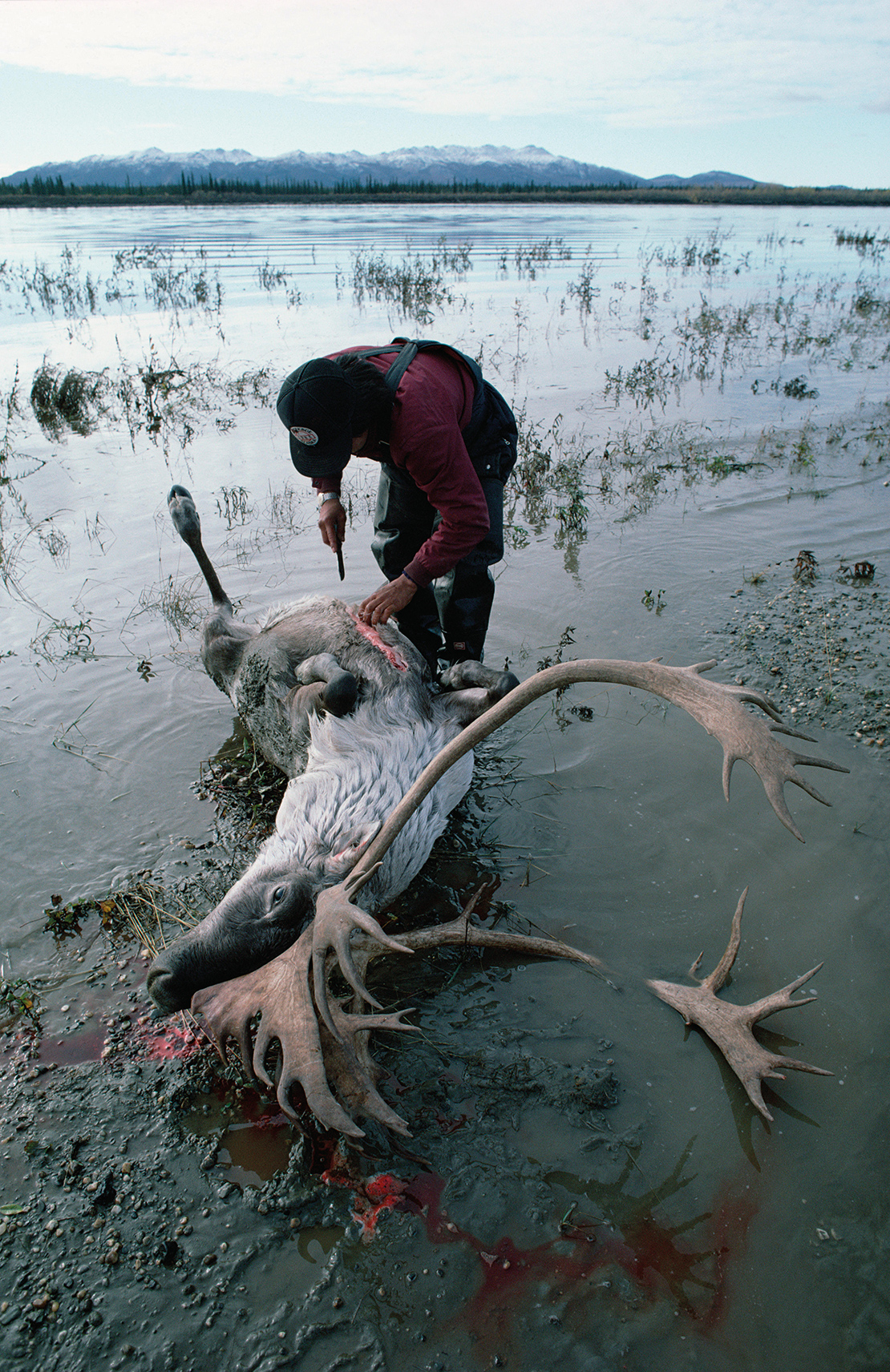 Case study: The Gwich'in and the porcupine caribou herd, North America
The porcupine caribou herd (Rangifer tarandus granti) is an iconic group of animals in North America with a range that stretches from Alaska in the United States to the Northwest Territories in Canada. In the world's longest mammal migration, the porcupine travels over 2,400 kilometres each year across the traditional territory of the Gwich'in nation. The porcupine and the Gwich'in now face complex persistent threats that include ineffective interjurisdictional management, impacts from industrial activity, and climate change.
Box 29: Alexandra McGregor and Wanli Ou, AFN Fisheries
A traditional Mi'kmaw fisher from Pictou Landing, Mi'kmaq territory. Credit: Amy Moulton.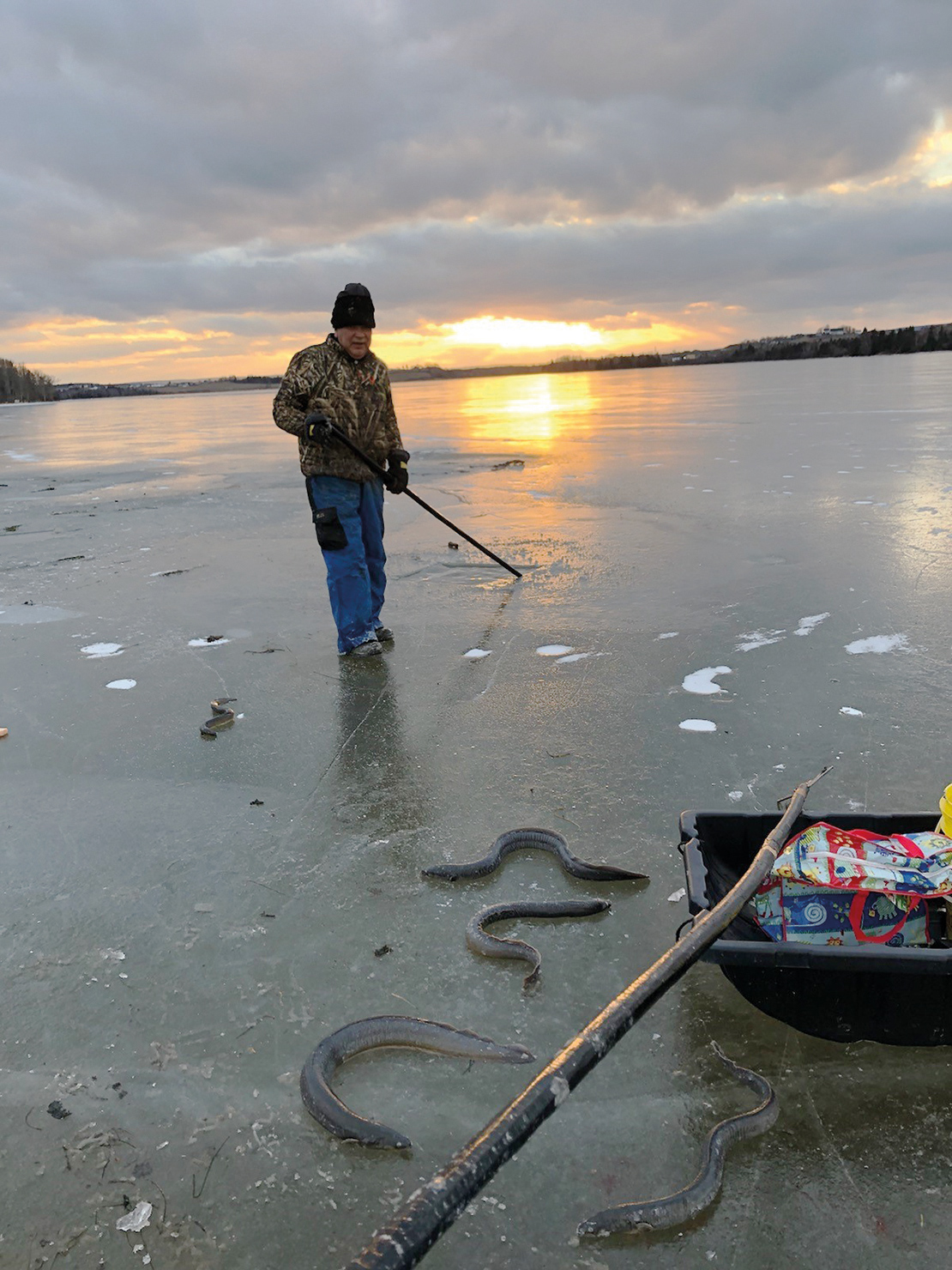 Case study: Indigenous eels in Canada
Pimizi (the Anishinaabemowin word for 'eel') has long co-existed with the indigenous peoples of the Canadian eastern seaboard on Big Turtle Island. Otherwise known as the American eel (Anguilla rostrata), this serpentine creature has been vital to the health and wealth of indigenous peoples for thousands of years.
Where partnerships between IPLCs and researchers are based on mutual respect, reciprocity, benefit-sharing, accountability and cultural safety, evidence shows that they have significantly furthered collective understanding of species' ecological distribution ranges, baselines and trends.23 However, it is also evident that historic and remembered prejudice and biases against indigenous ways of knowing and being cast long shadows, and, too often, they continue to characterise the scientific approach to IPLCs.
"Two-way healing" / "two-way knowing" / "both-way learning"24 can promote transformative change in IPLCs and society for living in harmony with nature.25
Where mutual respect and trust is in place, or emerging, there are real opportunities for working with IPLCs on targeted recovery efforts, and, through those, commitment to supporting their ways of life, thinking, wellbeing and human rights.
Opportunities and recommended actions
IPLCs should be supported to upscale initiatives to reduce species extinctions, including monitoring and reporting species recovery actions at national and international levels.
Governments, donors and relevant actors should provide continued support for community-based initiatives for reducing risk of extinction, including community-based monitoring and information systems.
Governments and all relevant actors should ensure coordination and co-operation across scales and jurisdictions, and involve IPLCs in developing laws, policies and planning processes to protect their rights and interests. Successful recovery of threatened species over the long run requires mitigating the underlying causes of endangerment, as well as cumulative and combined impacts.
All actors should mainstream species protection into production landscapes and biocultural habitats.
All actors should recognise and value the range of IPLC institutions, values, concepts, contexts, interests and rights that maintain their ways of life and prevent species endangerment; they should also avoid imposing conservation burdens that could degrade the custodianship of IPLCs and their relationships to nature.
Armitage, D., Mbatha, P., Muhl, E.-K., Rice, W. and Sowman, M. (2020) 'Governance principles for community-centered conservation in the post-2020 global biodiversity framework'. Conservation Science and Practice 2:e160. Available at: https://doi.org/10.1111/csp2.160
Garnett, S.T., Burgess, N.D., Fa, J.E., Fernández-Llamazares, Á., Molnár, Z., Robinson, C. J., Watson, J.E. M., Zander, K.K., Austin, B., Brondizio, E.S. et al. (2018) 'A spatial overview of the global importance of Indigenous lands for conservation'. Nature Sustainability, 1(7), 369–74. Available at: https://doi.org/10.1038/s41893-0180100-6
Malmer, P., Masterson, V., Austin, B. and Tengö, M. (2020) 'Mobilisation of indigenous and local knowledge as a source of useable evidence for conservation partnerships'. In (Eds): Sutherland, W.J., Brotherton, P.N.M., Davies, Z.G., Ockendon, N., Pettorelli, N. and Vickery, J.A.: Conservation research, policy and practice. Cambridge: Cambridge University Press, pp. 82–113.
Reyes‐García, V., Fernández‐Llamazares, Á., McElwee, P., Molnár, Z., Öllerer, K., Wilson, S.J. and Brondizio, E.S. (2018) 'The contributions of Indigenous Peoples and local communities to ecological restoration'. Restoration Ecology 27(1): 3–8.
References